Taillardat – effortlessly elegant furniture for your living room, dining room and bedroom!
Interior design is something that many people spend a great deal of time, effort and money getting right. Choosing the right furniture for your home is obviously a huge part of this. At http://www.taillardat.fr, you can choose from a huge range of furniture designed to grace every part of your house – all of it made according to traditional techniques in Orléans, France.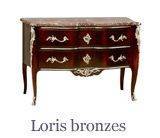 France was of course the home of the finest furniture to be found anywhere in the 18th and early 19th centuries. Taillardat is helping this heritage to live on by using skilled craftspeople to produce tables, armchairs, sofas, beds, chests of drawers and other items, employing similar methods to those used in the Golden Age of French furniture. Taillardat's complete range is available to view at http://www.taillardat.fr/collection-en.php.
Made from top-quality woods including oak, beech, cherry and mahogany, it's the real attention to period detail that stands out in a Taillardat piece. For example, the Loris bronzes chest of drawers seen below boasts a beautiful marble top, silver-plated fittings and a lovely cherrywood body.